Bosch Rexroth Retarder System consists of a number of relatively small breaking units – retarders – offering almost unlimited possibilities of variation and flexibility of the layout of the marshalling yard. The retarders can be placed both in the switching area and down the sorting sidings – on both sides of the track. The retarder can also be installed in bends, allowing longer sorting sidings.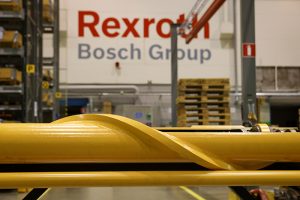 Bosch Rexroth Retarder System provides a safe braking of the wagons and complete control of their speed.
The retarders are mounted directly on the rail. It consists of a brake cylinder with a spiral cam and stand mounted right on the rail by two stand holders. The brake cylinder contains a hydraulic pump, valves, a volume compensator and special low viscosity hydraulic oil. The retarder is designed to fit common rail profiles. They can be lowered and raised by standard tilting device maneuvered by pneumatic cylinder.
Key products/services
Marshall yard brakes