On 30 March until 1 April 2021, RailTech Europe 2021 will be the unique digital meeting place for the entire rail industry.
European governments are investing heavily in rail and in these uncertain times there is a great need for industry professionals to come together and share insights in current developments.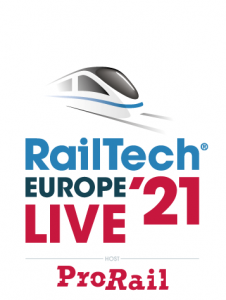 The event
The three-day, digital event will consist of digital exhibitors, workshop and conference sessions, a start-up festival and numerous digital networking possibilities.
Please visit RailTech's website for more information.
This is the time to take control for the mobility infrastructure and networks for the future. Join us!
Discount for Swerig-members
Sign up for free until 22 January 2021! After that, Swerig-members get a discount on the ticket price. The discount code is RTE21MP. The price will increase towards the event date, so buy your ticket as soon as possible!