It was for the 11th time, SWERIG organized a joint stand for its' members. The stand was situated in the International Hall for Railway Technology, hall 11.2, stand 260.
"Our member companies have a long tradition of prominent solutions adapted for the global railway industry. InnoTrans 2022 generated many leads and meetings with new and existing contacts. It was great to see each other again physically after a longer trade fair break. Many visitors were eager to learn more and expand their business and network at our stand." says Anne Geitmann, Director of Operations at SWERIG.
"Swerig's work and the stand design at the latest InnoTrans was top class."
Anders Lindén, CEO, Prover Technology AB
Nine of SWERIG's member companies were represented at the joint stand. Further, the Nordic fairs Elmia Nordic Rail and Train&Rail participated. The products and services offered span the entire rail field, from sustainable ideas such as reupholstering seats or offering spare parts, to technological solutions for planning or connectivity. Classic products such as clocks and warning horns were presented next to products for heating railway switches in colder climates and other components.
Member companies that participated in 2022
Artex
Artex designs, redesigns, manufacture, refurbish and upgrade seats, covers and other interior components for trains, aviation, trucks and public interiors. They are of course certified according to ISO-14001 and 9001.
Cactus Rail
The Cactus Traffic Management System help unify your diverse infrastructure no matter age or system type. The system enables data driven decisions to optimize the life cycle cost of critical assets and includes all the fundamental functions for centralized control and monitoring.
Conflux
Conflux is a global provider of advanced heating solutions. PTC Heaters from Conflux are based on their industry-unique technology using thin foils of electrically conductive PTC rubber. Conflux heaters cannot overheat and require no regulating electronics. The result is an energy efficient and reliable heating solution with a product life expectancy and time to install superior of any alternative solution.
Icomera
Icomera is the world's leading provider of wireless Internet connectivity for public transport and committed to promoting green mobility. Serving millions of Wi-Fi users worldwide, their award-winning technology makes public transport a better, safer and more attractive option for passengers.
Kockum Sonics
Kockum Sonics offer air driven as well as electronic train whistles for all types of rolling stock.
Oxyfi
Oxyfi is a leading provider of internet access solutions to the public transportation sector. They connect vehicles including rolling stock, buses and ferries to the internet using several simultaneous mobile data carriers for the best possible capacity and robustness, monitored 24/7.
Prover Technology
Prover Technology are committed to contribute to a sustainable and safe world. They provide solutions for the engineering of safety critical systems that control trains, signals and switches.
TMW
TMW Sweden help you with mechanical products from a prototype or small series all the way to manufacturing larger series.
Westerstrand
Westerstrand Urfabrik has a long tradition of manufacturing industrial and commercial time systems. They manufacture, develop, design and sell modern time and display products for areas such as public transportation, industries, hospitals, offices, schools, sport halls and sport arenas based on the latest technology.
Further, the Nordic fairs Elmia Nordic Rail and Train&Rail will be present at our stand.
"Very well arranged by SWERIG. It is a luxury to be able to come down to Berlin and find everything ready! " Hans Böttrich, Sales Manager, Cactus Rail AB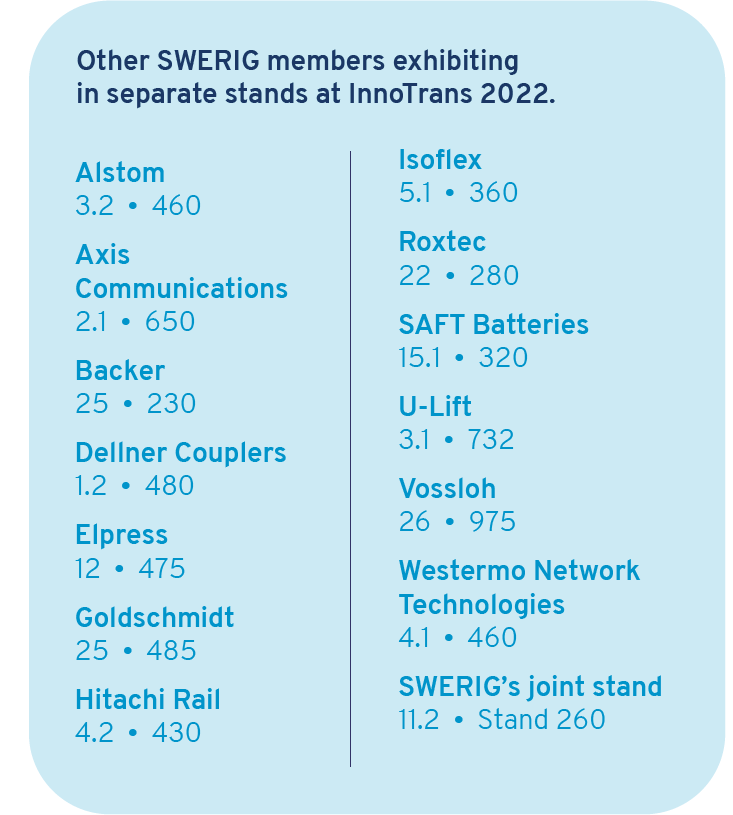 Mingle party at the Swedish Embassy
The mingle party at the Swedish Embassy in Berlin was a joint venture by SWERIG and Swedtrain. Member companies, customers, partners and industry friends were greeted by Ambassador Per Thöresson, followed by SWERIG's Director of Operations Anne Geitmann and co-host SWEDTRAIN's Secretary General Gabriel Modéus. Björn Asplund, CEO of Alstom Sweden and chairman of Swedtrain gave the speech Laying the tracks for the Swedish railway industry. Our guests enjoyed Swedish Specialities prepared by the ambassador's personal chef and made new connections as well as reconnected with previous acquaintances.
Next InnoTrans will take place from 24 to 27 September 2024.